The Workforce Advantage Academy program is designed to serve those students who are seriously struggling with the relevance of school.
High Graduation Rate

Capacity for 220 students

Classes are 90 minutes long

Scholarships for graduating seniors

Small Classes – Average 15 to 20 students per class
We offer them all of the options to having a good life and help them develop a plan with real choices…Ken Hartsaw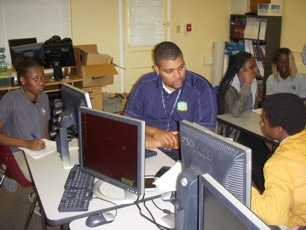 Program Overview
This program is incorporated into the structure of the existing public school. Program highlights:
Academics are focused on their application to the work world.
Curriculum is accredited by one of the regionally accepted credentialing groups (such as SACS).
Students apply their learning in an actual job setting by structuring the school year to consist of half-time academics necessary for the requirements of School District graduation, and half-time work experience, either in a paid job with community employers, or a work experience with the public sector.
Classes are small, because only half of the students are on campus at any single time.
Typical program serves 200 – 240 students.
Workforce Advantage Academy
This program provides the intervention framework to seamlessly assist youth to stay in school and graduate.

Student holistic development
Our students develop the academic, employment and social skills that they need to build rewarding lives and promote positive change in their communities.

Experiential learning opportunities
Experiential learning opportunities allow students to achieve academic excellence, employment success and social responsibility.

Dedicated team of education professionals
Workforce Advantage Academy is operated by a dedicated team of education professionals, with no ties to a management company.

Provides students with work experience